BIG NEWS: The Corks & Forks Food Pass is Here!
BIG NEWS: The Corks & Forks Food Pass is Here!
Join us for a culinary adventure! We are excited to announce the launch of our first-ever gamified food pass, Corks & Forks. Our partner cities of Bay Area Houston—Kemah. League City, Seabrook, Nassau Bay. and Clear Lake Shores—have come together to show off our impressive culinary scene with this new tourism tool. 
Corks & Forks is a gamified food pass meant to encourage travelers and locals to explore Bay Area Houston's food scene and visit all participating restaurants. The free, mobile-exclusive digital pass features Bay Area Houston restaurants and allows visitors to win prizes as they check-in at participating locations. 
We've partnered with the technology company Bandwango to launch this passport. The company has successfully launched many gamified passports with destinations in the U.S. and Canada, like the Sacramento Fried Chicken Trail, the Eau Claire Curd Crawl, and Visit Omaha's Craft Brew Penny Pack.  
So, what are you waiting for? Sign up for the Corks & Forks Pass and start your culinary tour of Bay Area Houston today by clicking the button below.
Corks & Forks Culinary Challenge
Local Business Spotlight: Oh Soooo Scrumptious! 
Peach mango cupcakes, turtle apple pie cheesecake and key lime cheesecake… is your mouth watering yet? To say we have a little bit of a sweet tooth would be an understatement and the one place we know that can satisfy our cravings every time is Scrumptious Houston in Nassau Bay. That is why we would like to feature this locally owned hidden gem in this edition of our Local Business Spotlight.
Owner Tahira Christensen – known throughout the region for her unbeatable cheesecakes, cupcakes and cookies – is a resident of Seabrook, where she lives with her husband, Derrick, and their beautiful daughter, Naima. Tahira is also a LEOW (law enforcement officer's wife). Her husband Derrick is a police officer with the Seabrook Police Department. 
"We started our business from home five years ago, but once we grew and added cheesecake to our offerings, we needed commercial kitchen space [to meet demand]," Tahira said. "We were able to find that at The Boldthouse Wine Bar [in Seabrook], and we were selling cheesecake by the slice when the pandemic hit."
Tahira moved Scrumptious Houston to its Nassau Bay location last summer, opening officially in August 2020. Nassau Bay is located on Clear Lake and one of the primary partners of Visit Bay Area Houston. Tahira's shop is located at 1354 E. NASA Parkway, just down the street from Space Center Houston.
"The Nassau Bay community has been extremely welcoming, and many area residents came and checked us out once we opened," Tahira said. "Posts in local Facebook groups and on NextDoor really helped drive initial traffic, and we offered curbside which a lot of people appreciated." 
Of all her delectable products, Tahira says her cheesecake is the most popular.
"Cheesecake is by far what we have become known for, and it's the dessert I am most passionate about," she said. "We have over 25 flavors and we are constantly trying new combos, so we are hoping to increase that number even more.
"In addition to Cheesecake, we offer a variety of traditional bakery items, including cupcakes, brownies, Rice Krispy treats, cookies, cake by the slice, banana pudding and our most recent addition – Keto-friendly Cheesecake jars."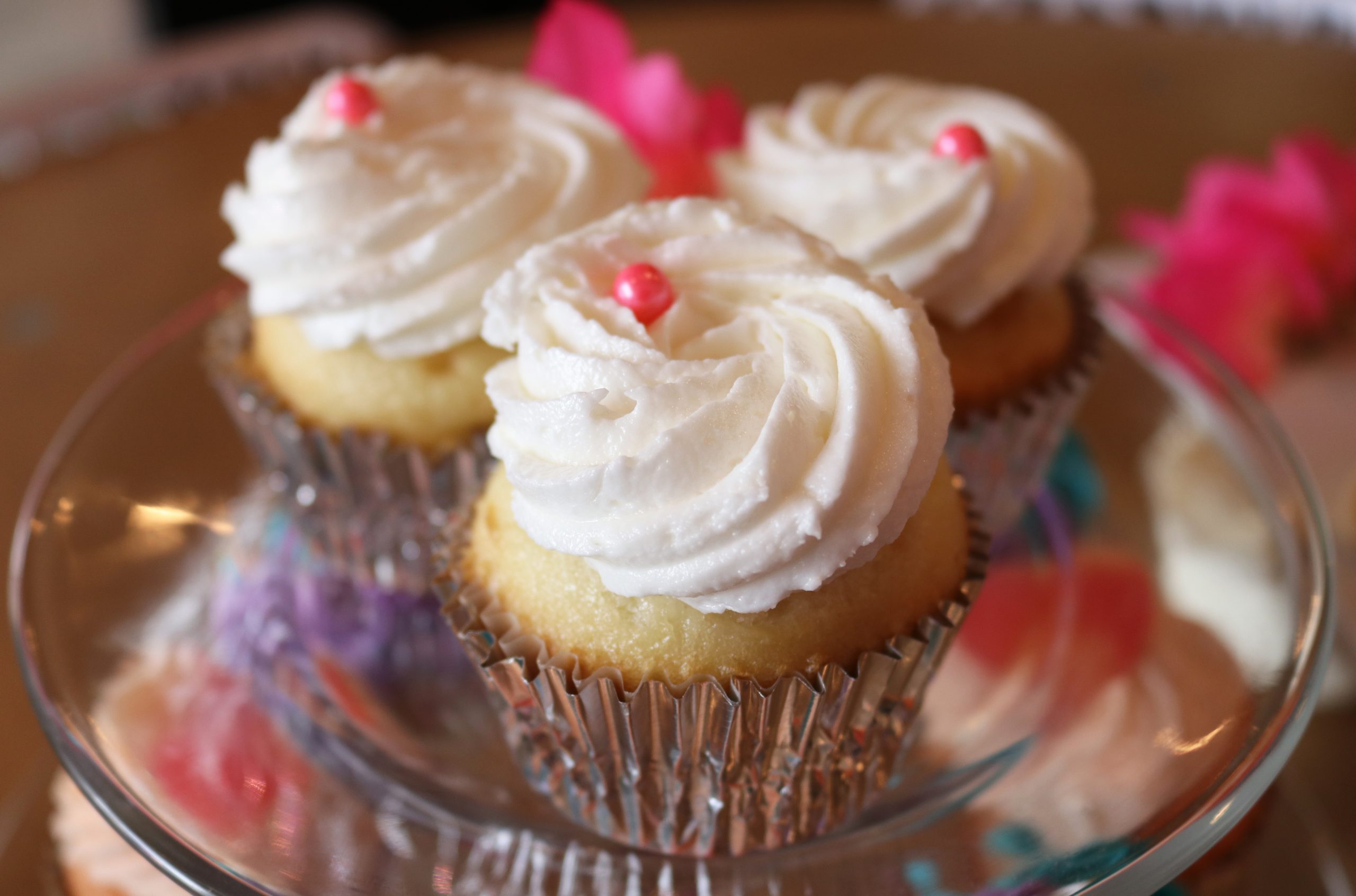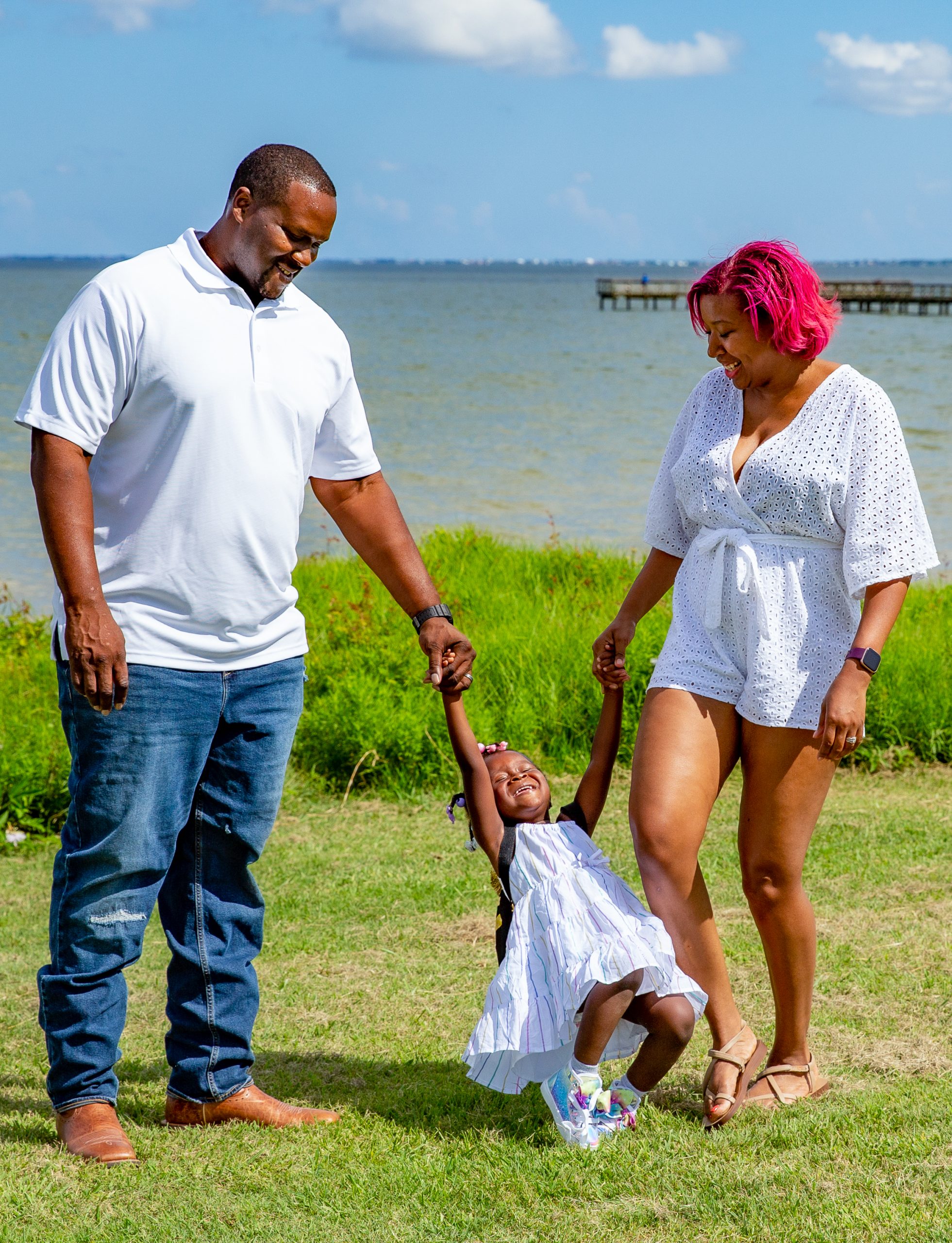 If you keep heading east on NASA Parkway you will arrive in Seabrook, which is where Tahira calls home. Seabrook is a wonderful destination for the outdoor enthusiast; with over 13 miles of hike and bike trails and miles of waterfront on both Clear Lake and the Bay.
Pictured here are Tahira and her family enjoying a summer day at Pine Gully Park in Seabrook. Pine Gully is connected to the beautifully maintained trail system plus the park is home to a 1,000-foot fishing pier. It is a must-see during your visit.  
Tahira and her family are true Bay Area locals and are an important part of the community here. A community that welcomes visitors and supports small businesses.
Be sure to stop by Tahira's shop, Scrumptious Houston, in Nassau Bay during your visit and tell them that Kristin and LeaAnn sent you.
---
~ Collaboration Blog Post by BAHCVB Board Members Kristin Edwards & LeaAnn Dearman Petersen
Every day is "National Puppy Day" around Bay Area Houston, and what better way to celebrate your pup than a little adventure to one of the many dog-friendly restaurants around Bay Area Houston!  Here is a list of Pup-Friendly patios around Bay Area Houston to treat your furry friend to a day out:
Kemah/Clear Lake Shores
League City
Seabrook/Nassau Bay
Special thanks to Weekday Walkies for their vetting of each of these patios and restaurants!  Explore our website for complete listing of pet-friendly restaurants and current schedule of local events.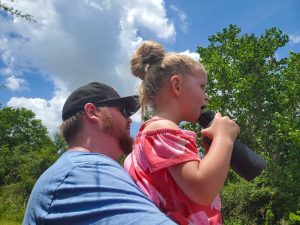 Birding Season is Here!
March is the start of birding season which means it's time to learn the basics before birding is in full swing in April! If you are a beginner birder, this is just the blog you will want to read, as you will get information about bird migration, free birding classes, and where to go to get the best views and bird activity!
• Spring Migration
Spring Migration is one of the two times a year where mass amounts of birds will migrate for better climate, food, and breeding grounds. Texas is right in the middle of this long journey, so many birds like to stop, rest and refuel here on our coasts and in our wetlands. Texas is known to be one of the biggest hot spots for bird migration. Depending on the area, spring migration can last from January to June. But here in Texas, you will usually see an increase in migration birds from March to May. These will be the times where you will want to go out either on your own or with some family and friends to go birding!
• Bay Area Birding Classes | March 22 – May 17
www.leaguecity.com/3886/Bay-Area-Birding-Classes
Are you a beginner birder? Is birding already a hobby of yours? Visit Bay area Houston CVB & League City are hosting
FREE Zoom classes online for people with and without birding experience! Kristine Rivers, a Texas Master Naturalist and Birding for Fun founder, will be leading classes and teaching you everything you need to know on how to start birding. Including useful tips and tricks when out in the field, and refreshers for the pros. These classes stretch out over eight weeks and will be on Mondays at 7 to 8PM starting from March 22 to May 17.
To get the Zoom link for these classes, all you need to do is go on the League City website and register for each class that you want to attend. There will be many useful classes with important information, for example, "How to Select Binoculars & Field Guides" will be one that I would personally like to attend. This will also be your chance to ask questions and chat with a professional and experienced birding enthusiast. In addition, you will also get to meet and connect with a whole community of people that all love and enjoy the same thing.  As well as online classes, Kristine Rivers is also teaching In-Person Classes from April 6 to May 18. This will be a great way to fully merge yourself with nature and experience birding with a professional's instruction. You will get to scope out the best birding hot spots in the area, understand bird habitats and behaviors, and gain skills and techniques. These classes do have a fee and space is limited.
Please click here to register and learn more.
• Pine Gully Park
605 Pine Gully Road, Seabrook, TX 77586Pine Gully park is a local favorite as it has tons to offer on 52 acres of land and is a perfect spot for birding. With a large group of trees, open space, trails, wetlands, and 1,000 foot pier, there will be an abundance of birds to see. Pine Gully park is also known for being on the Great Texas Coastal Birding trail, so it's worth checking out! There are also plenty of spaces and benches to rest and rehydrate. Entry fee is free for residents
and $10 Monday – Thursday, and $20 Friday through Sunday for non-residents.
• Nassau Bay Peninsula
Harbor Drive, Nassau Bay, TX 77058
This park is a gorgeous piece of land with peaceful views of the surrounding water and a nature trail that weaves through the environment. On this 76 acre wetland, expect to discover many species of birds coming through from migration and scouting the area for food. Nassau has recently displayed useful information signs and benches for your convenience. No entry fee required.
• Dr. Ned & Fay Dudney Clear Creek Nature Center
1220 Egret Bay Blvd N, League City, TX 77573
This park is a gold mine for birders and nature lovers alike! There are 148 acres of prairies, trees, and wetlands just waiting to be explored. There are all types of interesting plants and animals that have made this park their home. Here you can truly forget about the modern world and immerse yourself into nature. This nature center is the perfect habitat for migrating birds as there is so much space for nesting and feeding.  There are also observation areas for birders that have bird blinds that help you stay out of view from the wildlife so as to not scare them away. Come experience this park to the fullest! No entry fee required.
Birding is not only educational, but it's also fun to explore nature, find birds, and document how many you can find. This inexpensive hobby is a great way to get out of the house, spend time with family, and explore all the parks that the Bay Area Houston community has to offer. If you would like to find other parks that you can go birding, check out our Birding Park List here 
Spring break 2021 is on its way, and it will be here before you know it! Now is the perfect
time for a change of scenery to refresh and recharge with your significant other, friends,
or family. Bay Area Houston has some great ideas for the best getaway for locals and
visitors alike. We have explored the tastiest of restaurants, the most exciting of
adventures, and the most relaxing places to stay.  We've done the research & summed it all up here – just
for you!
1. The Romantic Getaway
• The Pelican's Nest Bed and Breakfast | www.thepelicansnestbnb.com/
1128 First Street, Seabrook, Tx 77586
Come and stay at this absolutely stunning bed and breakfast in serene Seabook,
Texas. It is complete with unique, clean and beautifully furnished bedrooms, the
perfect romantic getaway view, delicious breakfast options, a pool, nearby
restaurants, and the popular Kemah Boardwalk & Lighthouse District. The Pelican's Nest Bed and
Breakfast stands out as a cozy gem and is a wonderful couples resort for your
spring break vacation.
• Merlion | www.merlionrestaurant.com/
1205 Main Street, Seabrook, Tx 77586
Dining at it's best! If you stay at The Pelican's Nest, Merlion is just a two minute
walk down the street. And if you are wanting for a romantic dinner, it's your lucky
day! This elegant restaurant has earned many awards for their delicious food and
romantic atmosphere. Expect to literally have a "hot date" here as Merlion is
known for its spicy but succulent dishes. Reserve your table or order out and eat
back your room for a more intimate night.
• Helen's Garden | www.leaguecity.com/1271/Helens-Garden
701 E Main Street, League City, Tx 77573
This garden in League City is a popular spot because of its beautiful scenery and
quiet relaxing atmosphere. Spend the evening here having a picnic with a great
view, walking outside in the beautiful weather, and take a break from it all. This is
also a great spot for taking photographs as there is no shortage of scenic nature
backgrounds to choose from.
2. Vacation with Friends
• South Shore Harbor Resort | www.sshr.com/
2500 South Shore Blvd, League City, Tx 77573
This resort is a stylish and family friendly hotel and marina that has full service
and even a 185 foot long pool! South Shore Harbor is known for their elegant
design and waterfront views that truly make this vacation spot worth the visit .
This hotel is situated right in between Space Center Houston and the Kemah
Boardwalk, both only a few minutes drive away!
• BARge 295 | barge295venue.com/
2613 ½ Nasa Parkway, Seabrook, Tx 77586
Eat, laugh, listen to live music and sip on cocktails on the floating bar at the
BARge. It has a wonderful and fun atmosphere with a gorgeous view of Clear
lake. There are also many favorite seafood dishes served here that you and your
friends can enjoy in the nice weather that is sure to come with spring break.
BARge has been touted as a local's favorite hot spot for the 21 and up crowd.
You are sure to find the party at BARge.
• Kemah Lighthouse Shopping District | Visit Kemah, TX | Official Website
Spend your weekend getaway or weekday vacay walking around with your
buddies in the Kemah Lighthouse District. Kemah is full of different small
boutique businesses perfect for shopping, dining, , bars, and attractions. These
shops are all located in a centralized bunch only blocks from each other. Wear
you comfy sneakers and take a look around at the beautiful neighborhood and
waterfront! There is always something new to see in Kemah.
3. The Ideal Family Vacation
• Boardwalk Inn | www.kemahboardwalkinn.com/
8 Kemah Waterfront, Kemah, Tx 77565
Yes! Kemah Boardwalk has an Inn so you can be closer to all the fun! This hotel
is perfect for families getting away for school break. This hotel has much to offer
as they have their own private pool, a live band that plays outside during events,
shops that sit below the rooms, many restaurants to choose from, and fun rides
all within walking distance. They also offer affordable specials and packages to
help make your stay more comfortable.
• Spring Break Pass for Three Parks |
specials.kemahboardwalk.com/spring-break-pass/
Kemah Boardwalk, Pleasure Pier, & Downtown Aquarium
This spring break pass is an ideal family vacation event! visit any of these three
popular entertainment parks and ride all the rides, unlimited times, between
March 5 – 21! One ticket is only $69.99 (+tax) and lasts for all of school break
and more. Each destination is full of fun rides, theme games, restaurants, and a
full day of long lasting memories. The fun never stops!
• Pine Gully Park | www.seabrooktx.gov
605 Pine Gully Road, Seabrook, Tx 77586
This gem of a park has tons to offer on 52 acres of land and is a perfect spring
break idea. Here there are many different activities to choose from, including a
hike/bike trail, a BBQ pit for grilling, a fishing pier, playgrounds, swings, and
more. Perfect for a day at the park! As well as being fun for the whole family, pets
can join in on the fun too, there is plenty of land to run free on, and nice shady
spots to rest and rehydrate. Bring a blanket and picnic basket so you can stay
awhile.
• Spring Break At Lone Star Flight Museum | www.lonestarflight.org/
11551 Aerospace Avenue, Houston, Tx 77034
Lone Star Flight Museum is having a multi-day event that will be a great spring
break idea for the whole family to enjoy. Here you will get to explore through the
hangers, watch planes take off, play in flight simulators, hear stories from pilots,
and learn more about planes and even birds. There will be so much more
happening so check out their website for more info.
There will be a lot of things happening this year on spring break. No more wondering
what to do during Spring Break 2021! If these highlighted getaway ideas are not peaking your
interest, take a look at our event calendar for more great ideas: Upcoming Events – Visit Bay Area Houston
Spring Family Fun!
Winter is starting to come to a close! Spring will soon bloom and bring back the sun,
nice weather, green trees, and fun events for the whole family to enjoy. Bay Area
Houston has many exciting activities outside in the fresh air to get you and the family
out the house.
1. Family Camp Out at Space Center Houston | Feb 20 – 21 from 6PM –
9AM
1601 E NASA Pkwy, Houston, TX 77058
Do you have a camping tent that's just collecting dust in the attic? Brush off all
those cobwebs and come camp under the stars at Space Center Houston. There
will be different campsites outside, all with unique views of historic space crafts
and national treasures. To start the night, there will be many hands on activities
with different difficulties to match different ages. This can include rocket building
and launch, coding, robotics, astronaut training, and tours. After a good night's
sleep, breakfast will be waiting to either finish the event or give you energy for an
awesome tour, up to you! This camp out event is for children ages five and up.
2. Texas Gourmet Farmer's Market | Feb 27 at 9AM – 1PM
1095 W. League City Parkway, League City, TX 77573
Everyone knows that fresh is always better and sometimes that's hard to get at
your local chain grocery store. At the Texas Gourmet Farmer's Market you'll
know that all the fruit and vegetables they are selling are super fresh also
meaning super delicious! All this food is being grown right here in Texas, not out
of state, so you will be supporting local farmers and their families. Small business
vendors will also be there so let's bring the community closer together by buying
local. This pop up market occurs every month on the last Saturday. If you want to
be a vendor, request an application here! info@benstexasgourmetmarket.com
3. Crawfish Happy Hour at Bakkhus Taverna | Mon – Fri from 3PM – 7PM
605 6th Street, Ste. A, Kemah, TX 77565
Yes!!! It's finally Crawfish season and Bakkhus Taverna is treating us with happy
hour at $5.99 a pound. This is perfect for those that don't want to have to buy a
whole 35 pound sack of live crawfish and wait for hours while it cooks. These
crawfish will be waiting for you perfectly seasoned and cooked so you can
happily enjoy it with a pint. Thankfully this is a recurring event and will be around
throughout the crawfish season. You don't have to wait for happy hour either,
they will still be available for $7.99 before and after.
4. Spring Break Pass at Kemah Boardwalk | Mar 5 – 21
215 Kipp Ave, Kemah, TX 77565
Vacation right here in Kemah with your family at an amazing deal with the spring
break pass. With the pass, you will be able to ride all the rides at Kemah
Boardwalk for an unlimited amount of time until March 21st
. This will be the
perfect time to make memories with friends and family and take a baycation
away from the homework, zoom meetings, and show binging. What is even
better about this pass is that it includes Galveston Island Historic Pleasure Pier
and Downtown Aquarium! You won't be getting bored this spring break! Passes
are only $69.99 and you can get them here!
specials.kemahboardwalk.com/spring-break-pass/
5. Exotic Petting Zoo at Three Acres Food Truck Park | Mar 13 at 5PM –
9PM
10648 FM – 1764, Sante Fe, TX 77510
Cute animal alert! If you or your kids love fluffy animals from the jungle, make
sure to come to this event! This will be your special chance to learn, pet, and
befriend some awesome creatures. There will be plenty of room to spread out
and enjoy the outdoors too. During this fun event, there will be lovely live music
and different food trucks to choose from. There will also be beer and wine
available for the adults. Entry is just a small fee of $5 and $3 to enter the zoo
area.
Spring break is an important time to break away from the mundane and do something
fun and relaxing. And these events and updates are highly recommended from Bay
Area Houston, but if you are looking for more, our calendar has other notable
experiences waiting to be attended.
Holiday Happenings & Santa Sightings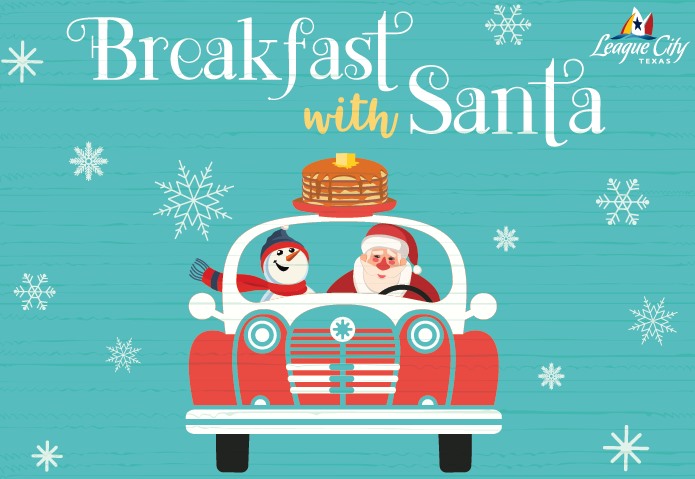 Santa has been sighted all across Bay Area Houston recently and our elves have been working to get the complete listing of where to visit with the man in the red suit.
Jingle on the Boardwalk every weekend through December 20th.  www.kemahboardwalk.com
Breakfast with Santa at the Aquarium Restaurant

Bring your friends and family for the most wonderful breakfast this holiday season.

Mail your letter to Santa and keep a close eye on the aquarium tank, you may see him swimming with our fish! Plus, receive 50% off Stingray Reef admission and a take-home Christmas craft!
Santa's Breakfast is served with mini pastries, biscuit, butter, jelly, your choice of fresh fruit or mixed berries parfait, and your choice of scrambled eggs with bacon/sausage and hash browns or a cheese blintz with cream cheese, ricotta cheese and blueberry topping.

 

Santa's Little Helper Breakfast includes:
Pancakes, scrambled eggs, bacon or sausage, hash browns, and strawberry garnish.

ADULTS $18.99
KIDS (ages 3-10) $13.99
Plus tax
–
Reservations are required. Call to Reserve 281-334-9010

Breakfast with Santa Drive-Thru at Hometown Heroes Park – Saturday, December 12th 9am -11am

Join us for a yummy drive-thru breakfast with Santa and friends and get your pictures taken with Santa! Pre-registration is required. Santa will be in a snow globe to allow for safe, social distanced photos. Register at leaguecity.com or call 281-554-1180. Resident Fee+ $10/ Non-Resident $15

The 59th Annual Christmas Boat Lane Parade – Saturday, December 12th at 6:30pm hosted by the Clear Lake Area Chamber of Commerce!  Best viewing areas are along the Clear Lake Channel and the Kemah Boardwalk.  
For complete listing of holiday events, visit our calendar of events: Click HERE
Thanksgiving Options for Dine In or Carry Out
Bay Area Houston restaurants are offering dine in and take out options for Thanksgiving Day!
South Shore Harbour Resort & Conference Center:  Meal for a Family of 4 $99 + tax.  Place orders before 3pm on Tuesday, November 24th by calling (281) 334-1000 x-2037 or emailing rgreen@sshr.com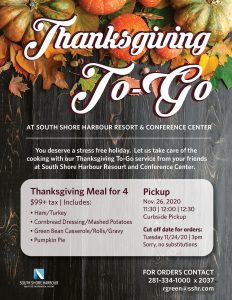 Kemah Boardwalk is OPEN on Thanksgiving Day for Rides, Retail and Restaurants!

Landry's Seafood House 11am – 6pm
The Aquarium 12pm – 6pm
Bubba Gump's 12pm – 5pm
Saltgrass Steakhouse  11am – 7pm

Cat Scratch Kitchen is hosting their first Thanksgiving Feast!!

Cat Scratch Kitchen and VooDoo Hut are hosting our 1st Annual Thanksgiving Feast! We will be serving a Thanksgiving Meal with all the fixins! Join us on our 15,000 sqft of outdoor dining space with plenty of social distancing. You do not need to cook and then have to clean up. Reserve your table for as many as you need. An assortment of appetizers, soups, and salads. A mix of proteins to please anyone's palate. With so much room left on your plates, a large assortment of all your grandmother's best sides and breads. Do not forget to save room for dessert!

1st Annual Thanksgiving Feast Menu

Appetizers
• Crudité
• Stuffed Shells
• Antipasto Bites
• Stuffed Brussel Sprouts
• Sausage Balls
• Apple Chips
• Stuffed Mushrooms
• Pretzel Bites w/ Beer Cheese
• Holiday Salad
• Caesar Salad
• Soup

Meats
• Roast Turkey
• Fried Turkey
• Smoked Turkey
• Stuffed Turkey Breast
• Virginia Baked Ham
• Roast Beef
• Pork Loin

Sides
• Corn Bread Stuffing
• New England Stuffing
• Mashed Potatoes
• Scalloped Potatoes
• Yams / Sweet Potatoes
• Baked Sweet Potatoes
• Roasted Potatoes
• Cranberry Relish
• Roasted Baby Carrots
• Maple Bacon Carrots
• Broccoli Casserole
• Creamed Corn
• Green Beans
• Green Bean Casserole
• Corn Bread
• Dinner Rolls
• Rye/White/Wheat Breads

Desserts
• Pumpkin Pie
• Apple Pie
• Turtle Cheesecake
• Blackberry Cobbler
• Peach Cobbler
• Chocolate Bourbon Pecan Pie

$25 per person All You Can Eat | 21 and UP
Feast Served until 9:00PM