Bay Area Houston – We Are For The Birds!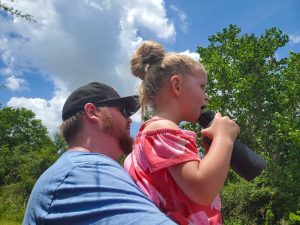 Birding Season is Here!
March is the start of birding season which means it's time to learn the basics before birding is in full swing in April! If you are a beginner birder, this is just the blog you will want to read, as you will get information about bird migration, free birding classes, and where to go to get the best views and bird activity!
• Spring Migration
Spring Migration is one of the two times a year where mass amounts of birds will migrate for better climate, food, and breeding grounds. Texas is right in the middle of this long journey, so many birds like to stop, rest and refuel here on our coasts and in our wetlands. Texas is known to be one of the biggest hot spots for bird migration. Depending on the area, spring migration can last from January to June. But here in Texas, you will usually see an increase in migration birds from March to May. These will be the times where you will want to go out either on your own or with some family and friends to go birding!
• Bay Area Birding Classes | March 22 – May 17
https://www.leaguecity.com/3886/Bay-Area-Birding-Classes
Are you a beginner birder? Is birding already a hobby of yours? Visit Bay area Houston CVB & League City are hosting
FREE Zoom classes online for people with and without birding experience! Kristine Rivers, a Texas Master Naturalist and Birding for Fun founder, will be leading classes and teaching you everything you need to know on how to start birding. Including useful tips and tricks when out in the field, and refreshers for the pros. These classes stretch out over eight weeks and will be on Mondays at 7 to 8PM starting from March 22 to May 17.
To get the Zoom link for these classes, all you need to do is go on the League City website and register for each class that you want to attend. There will be many useful classes with important information, for example, "How to Select Binoculars & Field Guides" will be one that I would personally like to attend. This will also be your chance to ask questions and chat with a professional and experienced birding enthusiast. In addition, you will also get to meet and connect with a whole community of people that all love and enjoy the same thing.  As well as online classes, Kristine Rivers is also teaching In-Person Classes from April 6 to May 18. This will be a great way to fully merge yourself with nature and experience birding with a professional's instruction. You will get to scope out the best birding hot spots in the area, understand bird habitats and behaviors, and gain skills and techniques. These classes do have a fee and space is limited.
Please click here to register and learn more.
• Pine Gully Park
605 Pine Gully Road, Seabrook, TX 77586Pine Gully park is a local favorite as it has tons to offer on 52 acres of land and is a perfect spot for birding. With a large group of trees, open space, trails, wetlands, and 1,000 foot pier, there will be an abundance of birds to see. Pine Gully park is also known for being on the Great Texas Coastal Birding trail, so it's worth checking out! There are also plenty of spaces and benches to rest and rehydrate. Entry fee is free for residents
and $10 Monday – Thursday, and $20 Friday through Sunday for non-residents.
• Nassau Bay Peninsula
Harbor Drive, Nassau Bay, TX 77058
This park is a gorgeous piece of land with peaceful views of the surrounding water and a nature trail that weaves through the environment. On this 76 acre wetland, expect to discover many species of birds coming through from migration and scouting the area for food. Nassau has recently displayed useful information signs and benches for your convenience. No entry fee required.
• Dr. Ned & Fay Dudney Clear Creek Nature Center
1220 Egret Bay Blvd N, League City, TX 77573
This park is a gold mine for birders and nature lovers alike! There are 148 acres of prairies, trees, and wetlands just waiting to be explored. There are all types of interesting plants and animals that have made this park their home. Here you can truly forget about the modern world and immerse yourself into nature. This nature center is the perfect habitat for migrating birds as there is so much space for nesting and feeding.  There are also observation areas for birders that have bird blinds that help you stay out of view from the wildlife so as to not scare them away. Come experience this park to the fullest! No entry fee required.
Birding is not only educational, but it's also fun to explore nature, find birds, and document how many you can find. This inexpensive hobby is a great way to get out of the house, spend time with family, and explore all the parks that the Bay Area Houston community has to offer. If you would like to find other parks that you can go birding, check out our Birding Park List here