Christmas in Old League City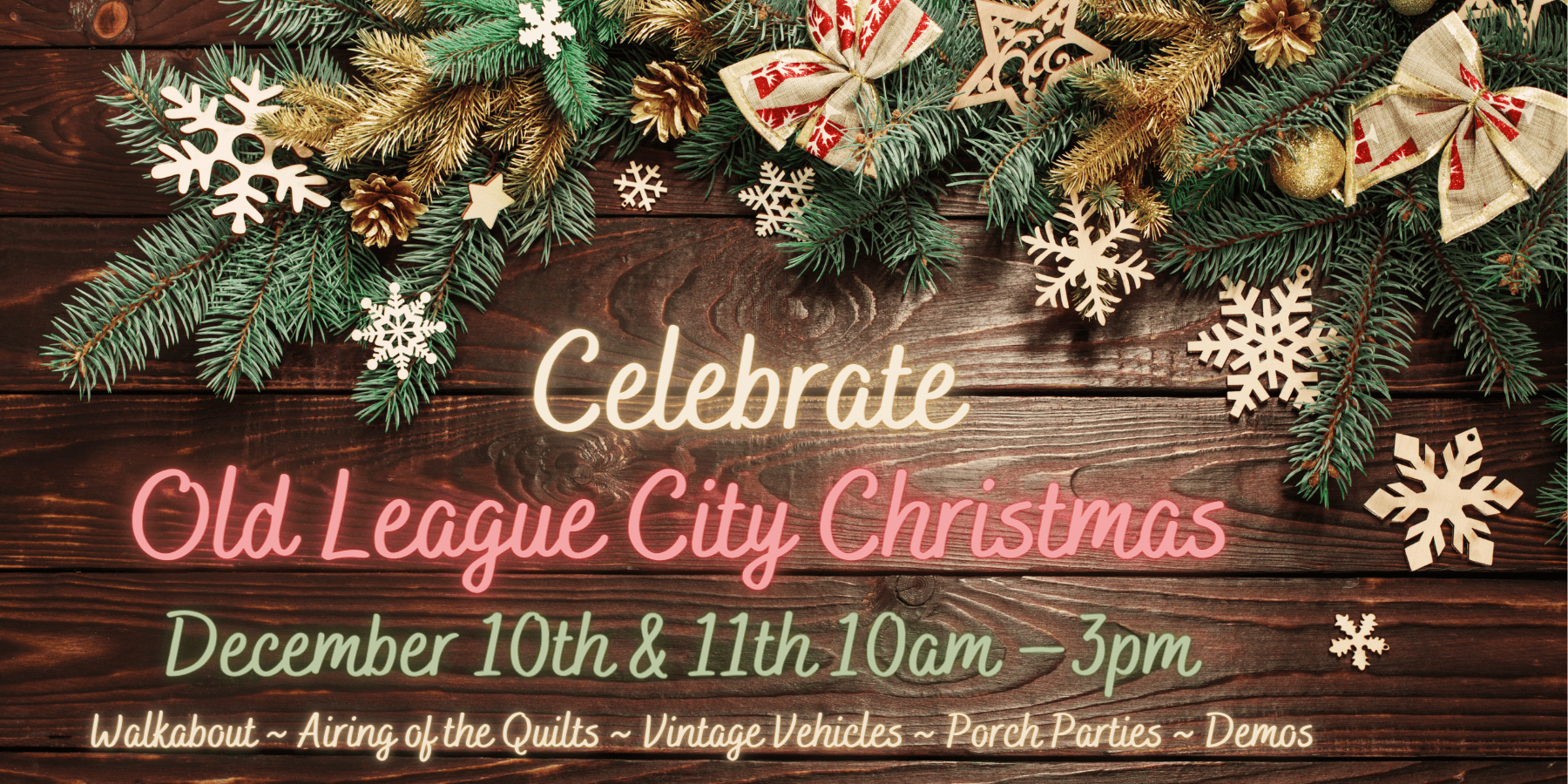 Park and stroll through our historic district exploring our activities, unique local shops, and tasty eateries. Stay for lunch, get it to go, or bring your own picnic basket, we have several great picnic spots including League Park, Helen's Garden and the Schoolhouse museum.
Schedule of Events
WALKabout Old League City Christmas
Saturday, December 10th | The League City Historical Society will be having two morning WALKabouts on Saturday, December 10th through the old main street to highlight the people and places that make this such a great place.
Airing of the Quilts
Saturday, December 10th & Sunday, December 11th | This historic tradition is always a delightful site to see. You will have the opportunity to see both heirloom and new quilts showcased outside historic home as you stroll through Old League City. Quilts were treasured processions, hanging them out on front porches gave owners an opportunity to display their cherished quilts, while also airing in them in the sunshine in preparation for their use for the long winter nights to come.
Vintage Vehicles
Saturday, December 10th | Beautiful vintage cars and trucks will be parked around the neighborhood. Wonderful for photo ops and a fantastic way to meet the owners as well as learn the history and care of these treasured modes of transportation.
*If there is rain on Saturday, the Vintage Vehicle will be out on Sunday, December 11th instead.
Porch Parties
Saturday, December 10th & Sunday, December 11th | Experience the charm of League City's historic neighborhood Porch Parties with music, art displays, outdoor games, folks strolling the historic streets in traditional costumes, and so much more.
Historic Demos
Saturday, December 10th & Sunday, December 11th | Rope making demonstrations and outdoor games will be held at the LCHS museum(210 North Kansas Avenue) If you've booked a spot on the WALKabout, you'll get to do hands-on Rope Making and take home your efforts.
VENUE
210 N Kansas Ave
League City, 77573