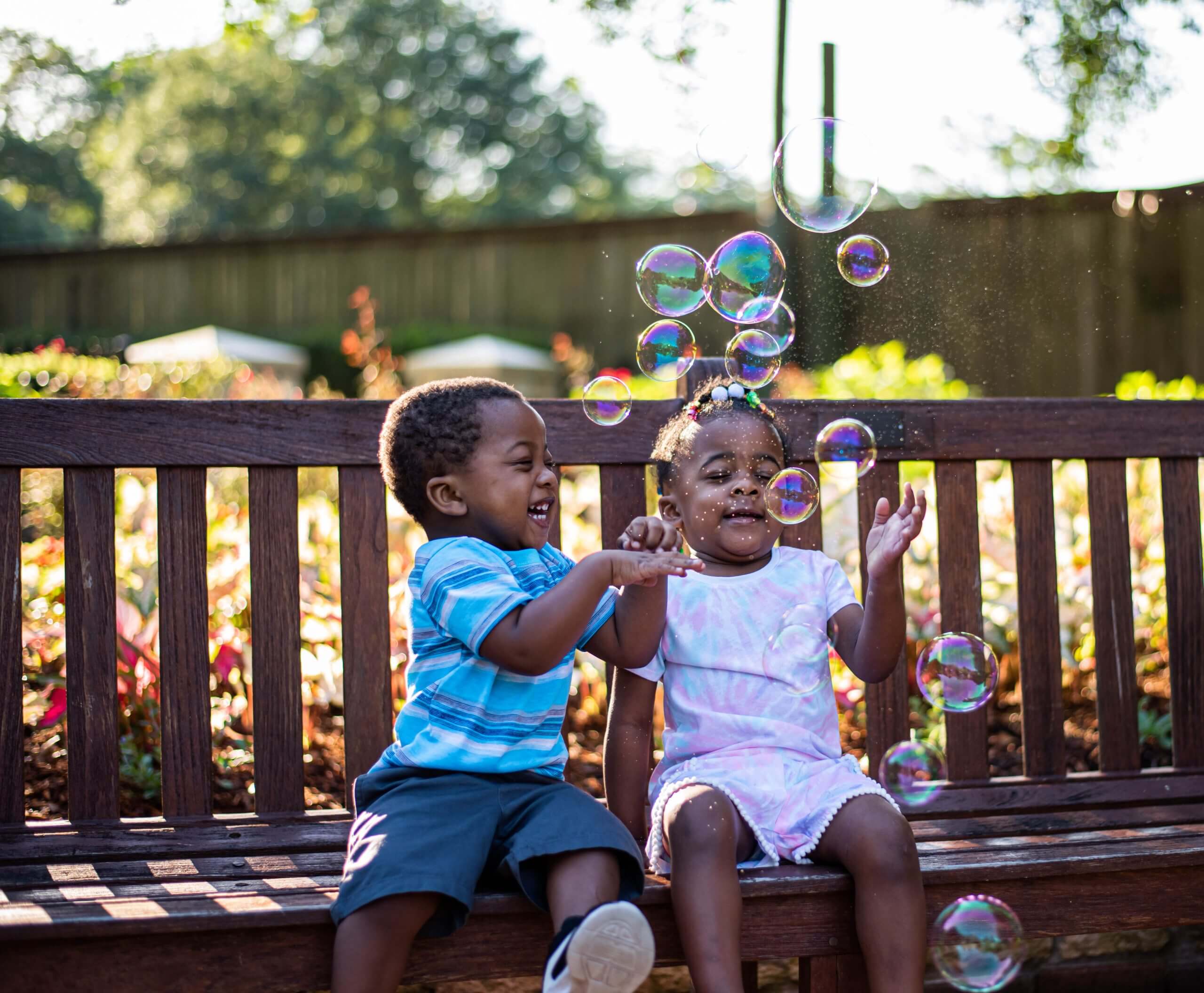 Beat The Heat With Bay Area Houston
As the days grow warmer, our thoughts drift to summer. Beating the Texas heat is a top priority but having a memorable summer is just as important. There's no better way to kick off summer vacation than with Bay Area Houston. Here are some Bay Area Houston Approved™ trip ideas to make the most of Summer 2023.
KEEP IT COOL ON THE WATER
It's all about staying cool, and what better way to combat the heat than by playing in the water? Set sail on the refreshing waters of Clear Lake, where boats, paddleboards, jet skis, and more await. Windward Sea Venture offers a little bit of everything, from sunset dinner cruises and rental boats for a day on the lake, to top rated ASA-certified sailing classes. Have a need for speed? Rent one of WABOS' Watersports jet skis and zip across the waves.
BYOB and hit the pedal to the metal on Houston Pedal Party Boats. The cycle boat fits up to 26 people and takes you on a booze cruise around Clear Lake. Take educational tours through Armand and Horsepen Bayou on the Bayou Ranger II with Armand Bayou Nature Center's Pontoon Cruises. Choose your cruise with morning, sunset, and night options and get ready to immerse yourself in nature. Test your strength and paddle through the 5.5 miles of peaceful waters on the Clear Creek Paddle Trail and spot teeming wildlife along the shorelines. Rent single, tandem, and child-sized kayaks with Clear Creek Kayaks or the Kayak Shack.
If being on the water isn't your cup of tea, try a different approach with waterfront dining. Located at the end of a pier on Clear Lake, Barge 295 offers live entertainment, cold drinks, and fresh food. Wave hello to the boats that cruise by as you dine on the first or second floor of the restaurant. Enjoy the casual outdoor patio with friends, savor a meal with Gulf Coast flair, and quench your thirst with a refreshing cocktail at Schafer's. CABO—a two story bar and grill situated on the shores of Clear Lake—welcomes you with a lively atmosphere and breathtaking waterfront views. Listen to live bands and DJs play on the weekends while on a date night or hanging with friends.
GET A BIRD'S EYE VIEW
We're for the birds! Part of the Great Texas Coastal Birding Trail, Bay Area Houston is home to thousands of acres dedicated to wildlife preserves, nature centers, hiking trails, and waterways that house some of the most diverse ecosystems in the country. Nestled inside the Clear Lake Loop, Dr. Ned and Fay Dudney Nature Center is 148 acres of undeveloped land with strategically placed bird blinds for you to spot pelicans, egrets, herons, and other birds who make this area their home. Follow the trail at Seabrook Wildlife and Refuge Park, where wildlife can be found at almost every turn as you travel through open fields and serene forests. Visit the wetlands of Nassau Bay Peninsula for a different point-of-view and complete their informational nature trail while exploring the area.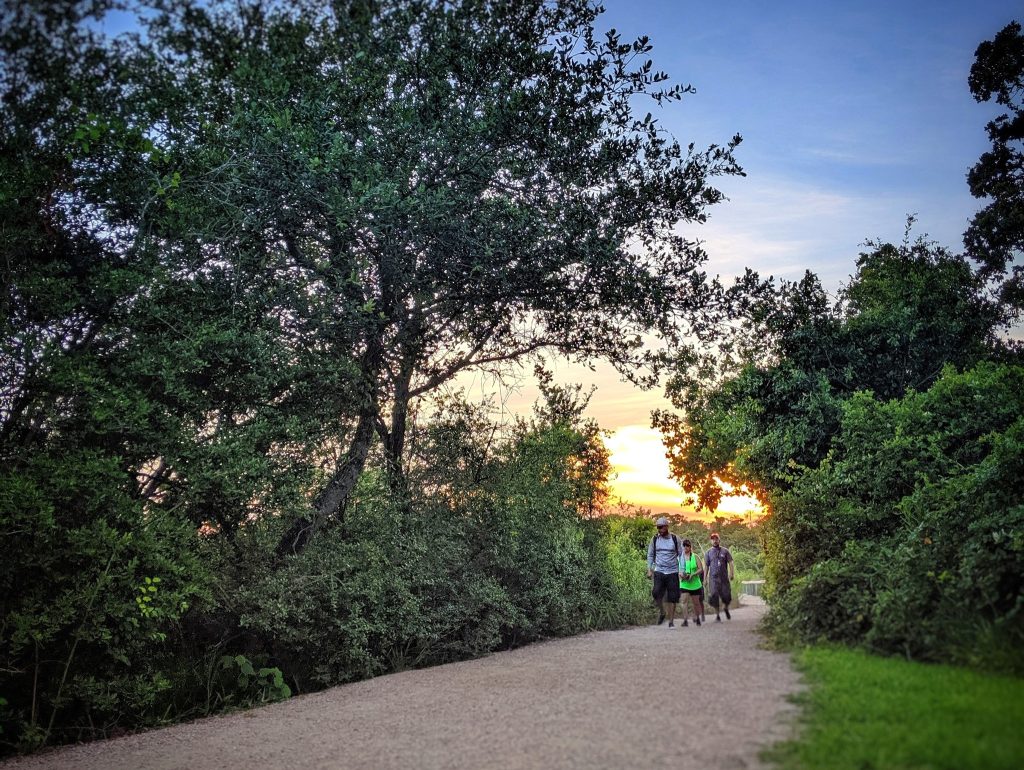 GO ON AN ADVENTURE
Blast off into orbit at Space Center Houston and travel to a Mars exhibit, hear stories of space from real astronauts, or take a NASA Tram Tour to explore NASA Johnson Space Center—including Historic Mission Control. Mark your calendars for the Moon2Mars Festival from March 11-19. Experience indoor and outdoor programming, panel discussions led by space experts, and immersive learning opportunities about new Mars and Moon space technology.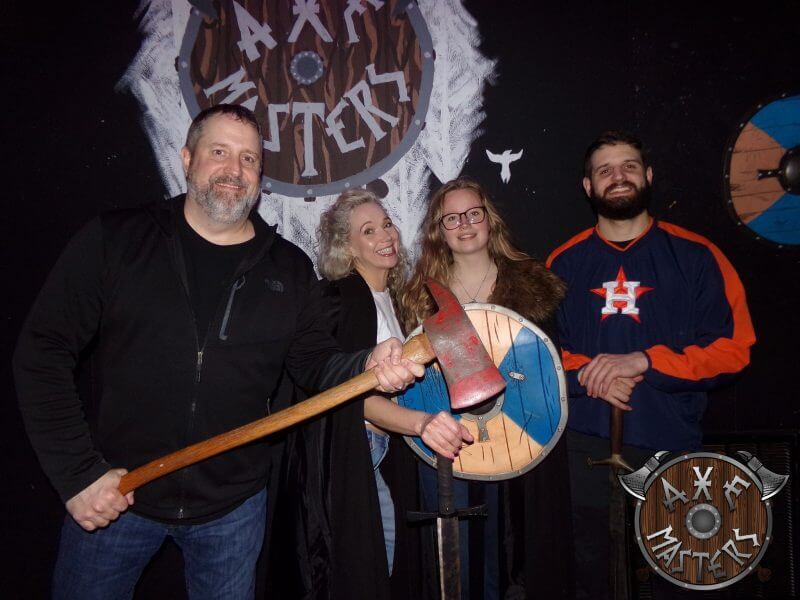 Itching for a more thrilling experience? Look no further than two top-notch axe throwing facilities right here in Bay Area Houston. Release your inner Viking at Axe Masters, a family-friendly, air-conditioned indoor axe throwing facility that will have you feeling like a legendary warrior. Bring the fun to Seabrook and spend a date night, girl's night, guy's night, any night out at Bay Axe, another air-conditioned indoor arena with plenty of space and excitement. Both facilities are BYOB, for the fun never stops when you're throwing axes.  
DON'T MISS THESE SUMMER EVENTS!
Summer isn't summer without local events. League City's White Linen Night has a little something for everyone. Spanning three blocks along the Historic District, local artists will be showing off their art while live music plays, kid-friendly arts and crafts will be offered, and classic cars from the past 60 years will be on display.
Keels & Wheels—Lakewood Yacht Club's annual public event—is the nation's largest gathering of classics, both cars and boats. From May 6-7, walk through this unique show with your family and friends and enjoy the sights and sounds.
Jam with the folks at Clear Lake Shores during Jammin on Jarboe at the Paul Shelley Pavilion in Jarboe Park. These music nights are the first Saturday of every month, and feature two different bands/sets per night. Music starts at 7 p.m. and lasts until 10 p.m.
Check out the full calendar for more events and how to find more ways to play at the Bay!